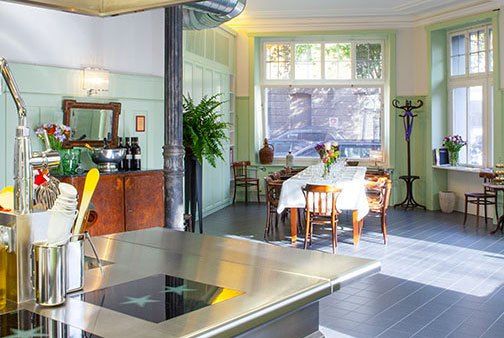 Cooking Events with Jane Ingold
Please, join me in my professional kitchen. For cooking lessons, either private or in groups, events & team building. For professional and sensual shopping tours for regional, seasonal or international food.
Come cook with me and eat at my table!
Cooking Events
Celebrate your birthday, wedding or just be with friends and cook together in Jane's kitchen and then enjoy all of your hard work, course for course at Jane's decorated table.
The Menus
You can choose from different menus with different price categories or custom make a menu together with Jane. You cook four courses together with Jane, which takes about 2 hours then you sit and enjoy the food course for course. The main emphasis is on simple food spiced right! Vegetarian or brunch menus are also available.
Team Building
Bring your staff closer together or get to know your clients better by cooking with them and Jane in her professional kitchen. The emphasis for all courses is on fun whilst learning something new. When the hard work is done you can sit and enjoy your creations at Jane's table.
Location
Chef's Kitchen has been custom made to fit the needs for catering, team building and events. You will find a fully working production kitchen made by Menu System of St Gallen with an induction centre cooking island and separate preparation workbench. Almost 100 square metres of working and eating space to enjoy. Chef's Kitchen is perfect for groups up to 20. For groups over 20 please contact Jane for other ideas incorporating her flare for food and wine in a larger atmosphere.
Spezialitäten
Jane has been working with Herbie's spices for more than 10 years and is the only importer of these wonderful spices in Switzerland. Speciality spices only found in the Australian bush are combined with everyday meats and fish to create a delicious fusion of tastes and cultures or create more involved classic or contemporary dishes with the right spice. All spices used in Jane's recipes are available to buy from Chef's Kitchen.